​​​ข่าว | แมนพาวเวอร์กรุ๊ป ประเทศไทย
บริษัท แมนพาวเวอร์กรุ๊ป ผู้นำระดับโลกด้านการจัดหาบุคลากรและที่ปรึกษาด้านแรงงาน นำเสนอบริการสิ่งต่างๆ ซึ่งช่วยให้ลูกค้าได้รับความสำเร็จในโลกของการทำงานที่มีการเปลี่ยนแปลงอยู่เสมอ ปัจจุบันแมนพาวเวอร์กรุ๊ปมีจำนวน 80 ประเทศทั่วโลก
​
MANPOWERGROUP THAILAND UNVEILS 2021 LABOUR MARKET TRENDS ALONG WITHWORKFORCE RECOMMENDATION'S FOR THAI WORKERS
​
ManpowerGroup Thailand unveiled the latest labour market trends and what measures Thai workers should action to adjust in 2021. The report also discusses the role of Covid-19 and its impact on the labour market. The report indicates that 2021 is viewed as the year of recovery, during which the public, business and industrial sectors must work hand in hand to overcome this crisis successfully. This is critical to bridge the gap between employers and employees and to fill the top jobs that are in demand, as identified in this report.
​
Mr. Simon Matthews, Regional Manager of Thailand, Middle East, and Vietnam, ManpowerGroup, states that during the past year, the world was severely affected by covid-19 pandemic, resulting in significant changes in all connected industrial sectors as well as labour markets, in terms of people's ways of life and how they do their jobs. Throughout the past year up until now, people around the world and Thailand have had to adjust to the situations of Covid-19 pandemic, global economic crisis and economic recession in Thailand resulted by the pandemic. However, the Thai government issued policies and stimulus packages to revitalize tourism industry, which has particularly been hit hard by the pandemic. Moreover, the government has encouraged domestic investment and spending to improve small businesses and drive the country's economic mechanism. In terms of foreign investment, although it has been reduced, still continued to flow into the country.
"Besides, it is the time of great transformation for business and industrial sectors to respond to changes, especially regarding the new normal at work. Therefore, the year 2020 has been known as the year of recovery and renewal and the year 2021 will be the time for a significant recovery during which all sectors have to work together. Although the recovery is believed to be quite slow, the awareness will be raised at all levels from households to business, industrial, and public sectors and at the domestic to global levels. I think that if we can adjust ourselves to the changes, we will be able handle all situations and solve all problems effectively," said Mr. Simon Matthews.
Miss Suthida Kanjanakantikul, Marketing Manager of ManpowerGroupThailand, adds that regarding labour market in 2021, business organizations tend to modify their strategy and design a new way of working, to reduce costs and make the organizations more compact. This is due to the pandemic situation in early 2020. Organizational restructuring and designing a new work process will make the employment more flexible and regular employment will be replaced by temporary, contract, part time employment, and outsourcing will become more popular that can effectively address workforce shortage problem.
Furthermore, we are now witnessing the use of technology in automating and digitizing certain procedures and in some industries, the complete process itself. We can see early technology adoption among sales staff, customer service representatives, admin staff, delivery drivers, and production workers. The ability to use technology that helps to improve overall work efficiency is important and workers must upgrade their skills to be ready for the digital era and to connect via various platforms.
We now have diverse workforce with a multi-generational pool of workers. Currently, Generation X and Generation Y dominate the workplace and labour market while Generation Z will start soon as well. Each generation has different ways of thinking and working based on their experience, and it is important for the workplace employees to learn to work together and execute projects successfully.
​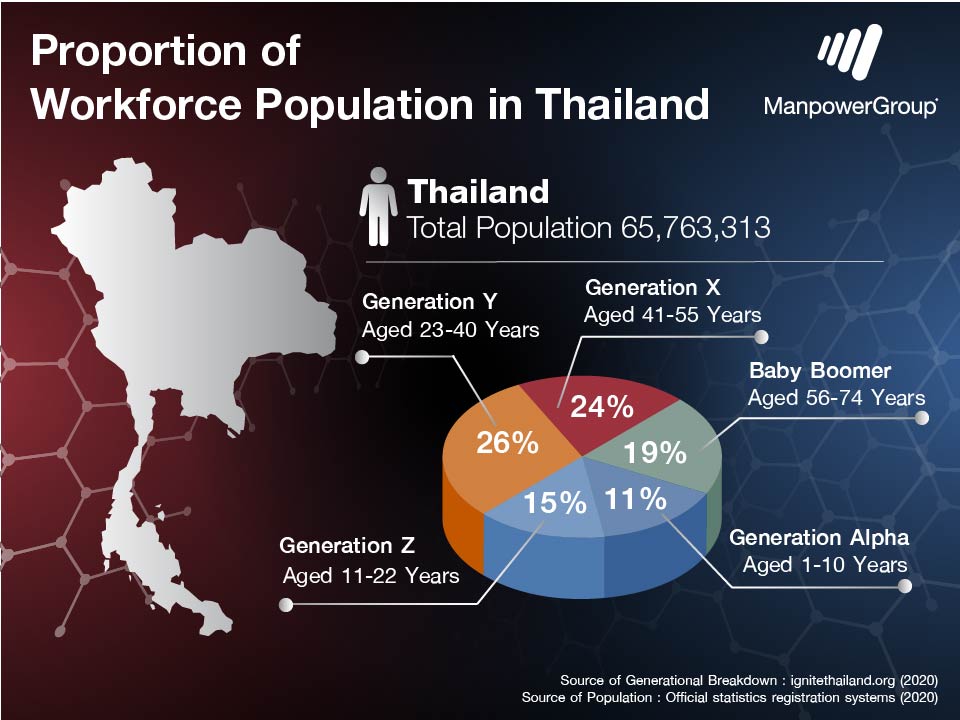 Another trend that will be obvious in the world of work is that workforce will create options to generate more income. For example, full-time employees will continue to do their jobs for their occupational stability and shall earn additional income from Gig Economy related to their fields of interest or skills, such as baking, online food business, or selling goods online. Freelancers will accept more diverse jobs. Some workers will choose gigs as their main source of income and they will be able to earn more income from multiple short-term jobs that they can manage to do at the same time. Besides the learning process and skill enhancements to improve individuals' knowledge and capabilities this will also enable the workforce to offer more diverse jobs both in the present and future.
Regarding the overall labour market trends in 2021, it is expected that eight out of ten fields of work are connected with a drop of 10% from the previous year due to labour market slowdown, causing certain fields to grow against the overall market. However, the demand for some fields decrease or remain the same due to the impact of economic situation and Covid-19, which has prevented business expansion.
Survey results from many of our ManpowerGroup Thailand customers reveal that the Top 10 jobs demanded by labour market (refer the table below) are as follows: (1) Sales and Marketing at 23.10%; (2) Accounting and Finance at 9.58%; (3) Transportation and Logistics at 9.50%; (4) Engineering at 8.52%; (5) IT at 7.78%; (6) Temporary, Contract and Part-time employment at 6.96%; (7) Administration at 6.80%; (8) Customer Service at 5.32%; (9) Production at 5.24%; and (10) Medical Service, Healthcare & Hospitality at 3.28%.
Top 10 jobs demanded by labour are as follows: (1) Sales and Marketing at 29.70%; (2) Engineering at 15.23%; (3) Customer service at 13.43%; (4) Administration at 7.40%; (5) Human Resources at 7.37%; (6) IT at 5.9%; (7) Accounting and Finance at 5.66%; (8) Transportation and Logistics at 5.51%; (9) Management at 3.51%; and (10) Production at 2.28%.
​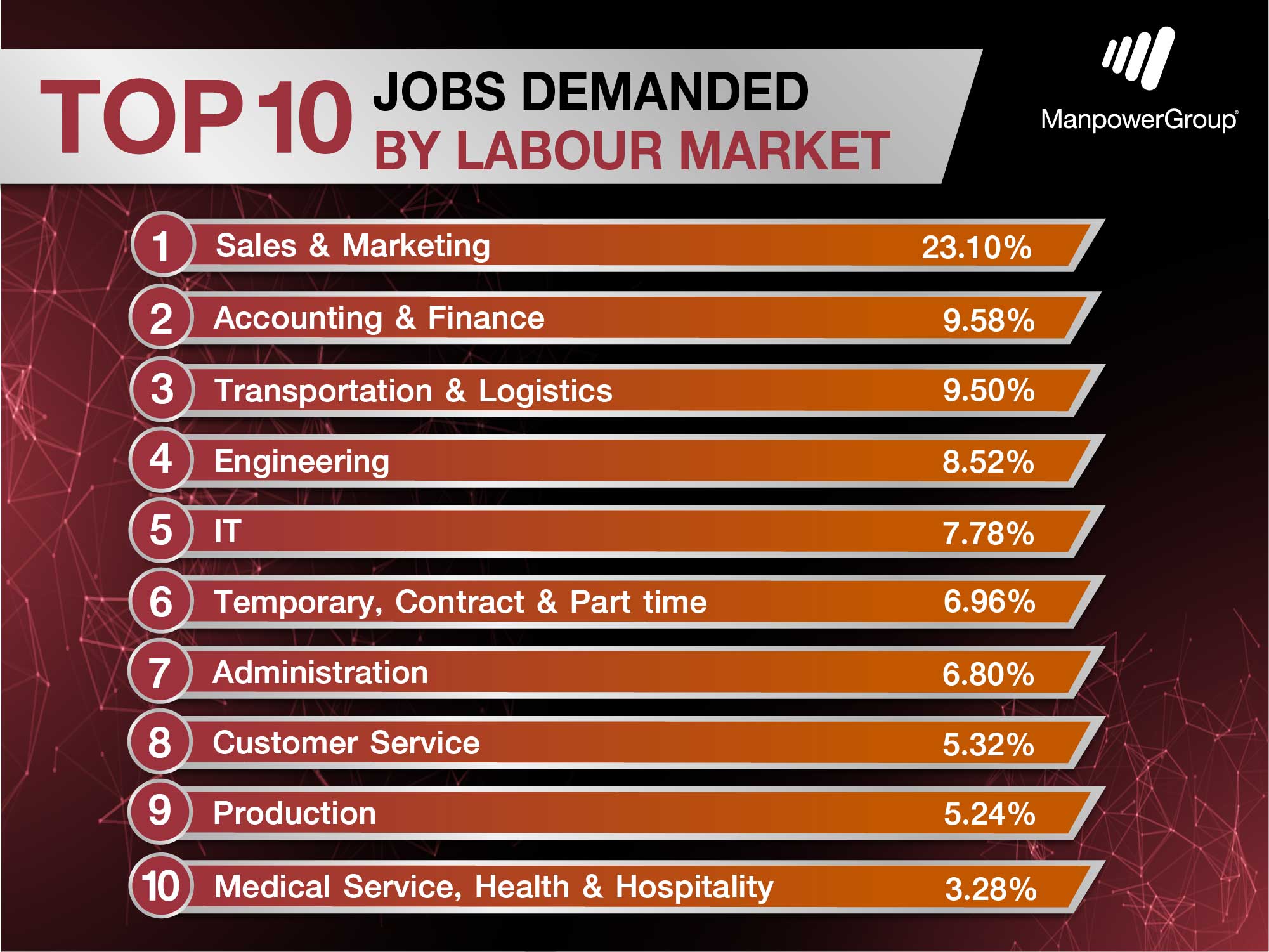 ​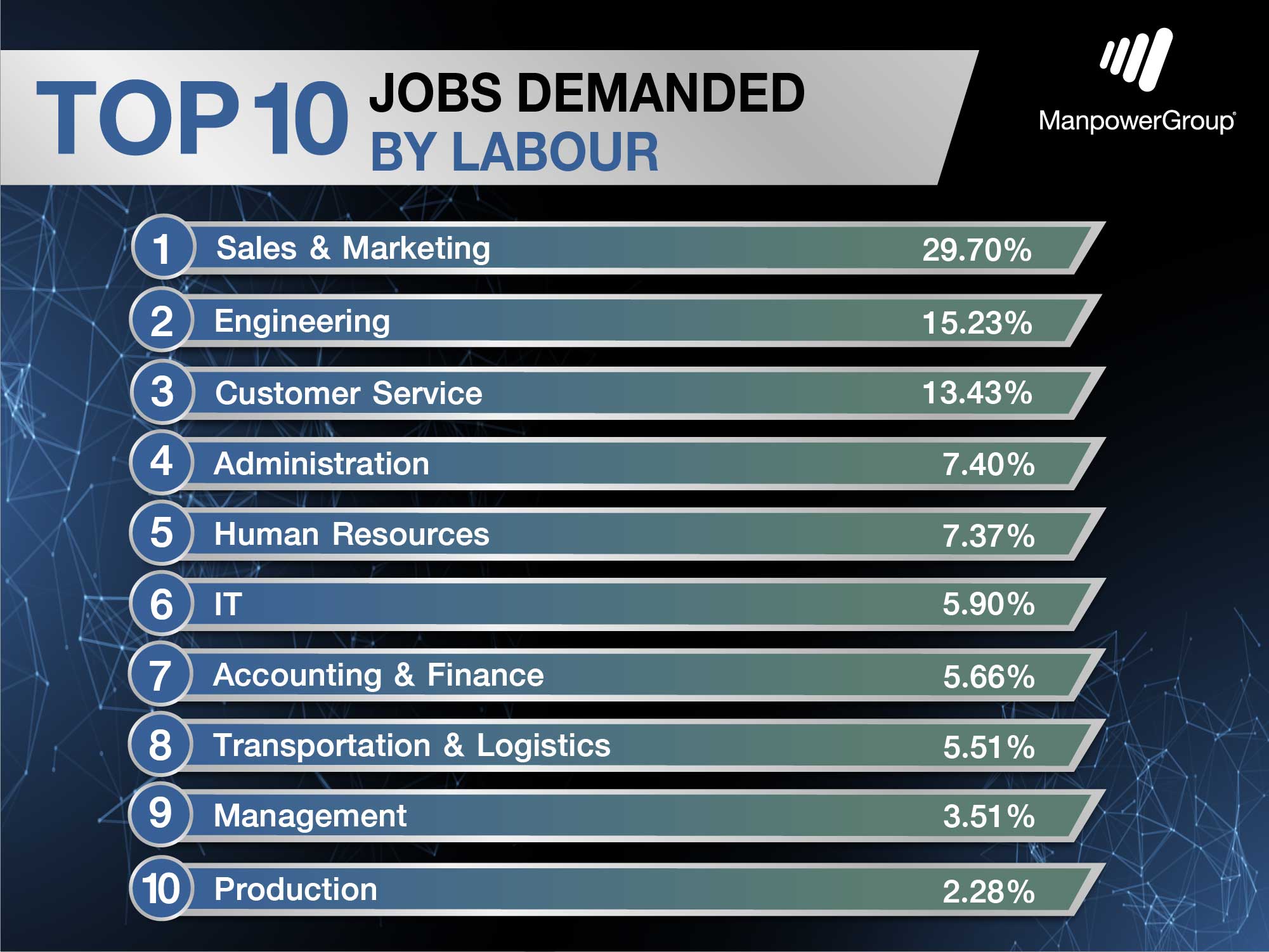 Therefore, the market and the workforce are still related in terms of demand (refer the table below). The survey also points out that Transportation and Logistics sector had the highest growth rate in 2020 at 4.83%, in response to growing e-commerce, online, and delivery businesses. The demand for Sales and Marketing sector has been the highest for five consecutive years, reflecting that businesses require personnel who are the medium to sell the goods and services, especially beauty goods and technology-related products. Marketing professionals play an important role in setting up online and offline strategies to present and communicate the products or services, promotions, and marketing activities to properly reach the target groups.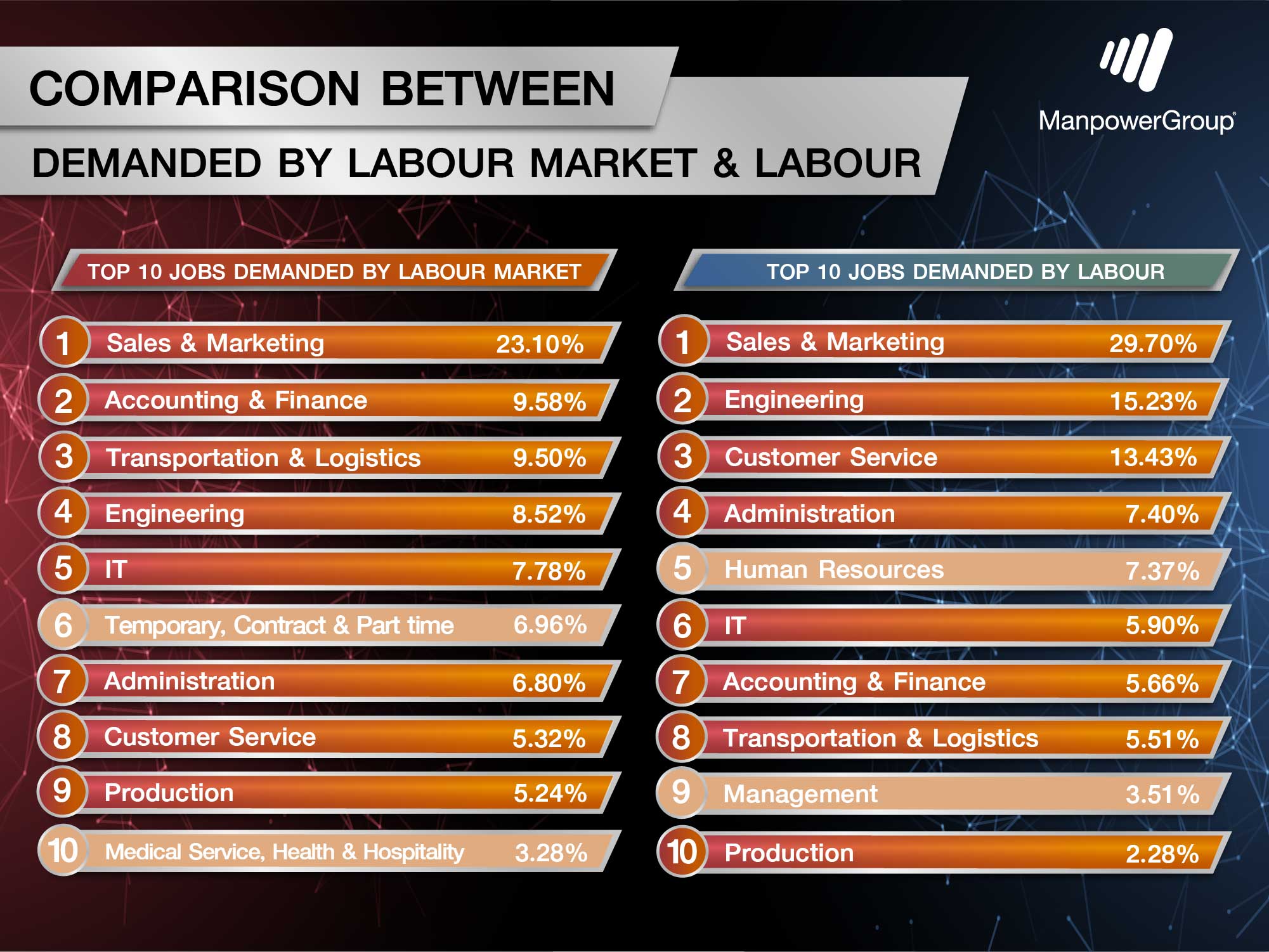 Moreover, Short-term employment, Medical service and Health & Hospitality sectors has large workforce and labour demands now and are considered as important sectors today. Although a rapid digital transformation is happening this year, Banking, Customer service and Production sectors are still high in demand for workforce since most of the domestic entrepreneurs are conservative business owners and in industries that are now entering this transformation period. Technology has played an important role in shaping up existing jobs and processes as well. This clearly indicates that in this new digital age, workers have to obtain new skills that are required to work with technologies, especially in industrial sectors.
The survey also reveals that top 10 careers in 2021 include Sales and Marketing, Accounting and Finance, Transportation and Logistics, Engineering, IT, Temporary, Contract & Part-time, Administration, Customer service, Production, and Medical service, Health & Hospitality.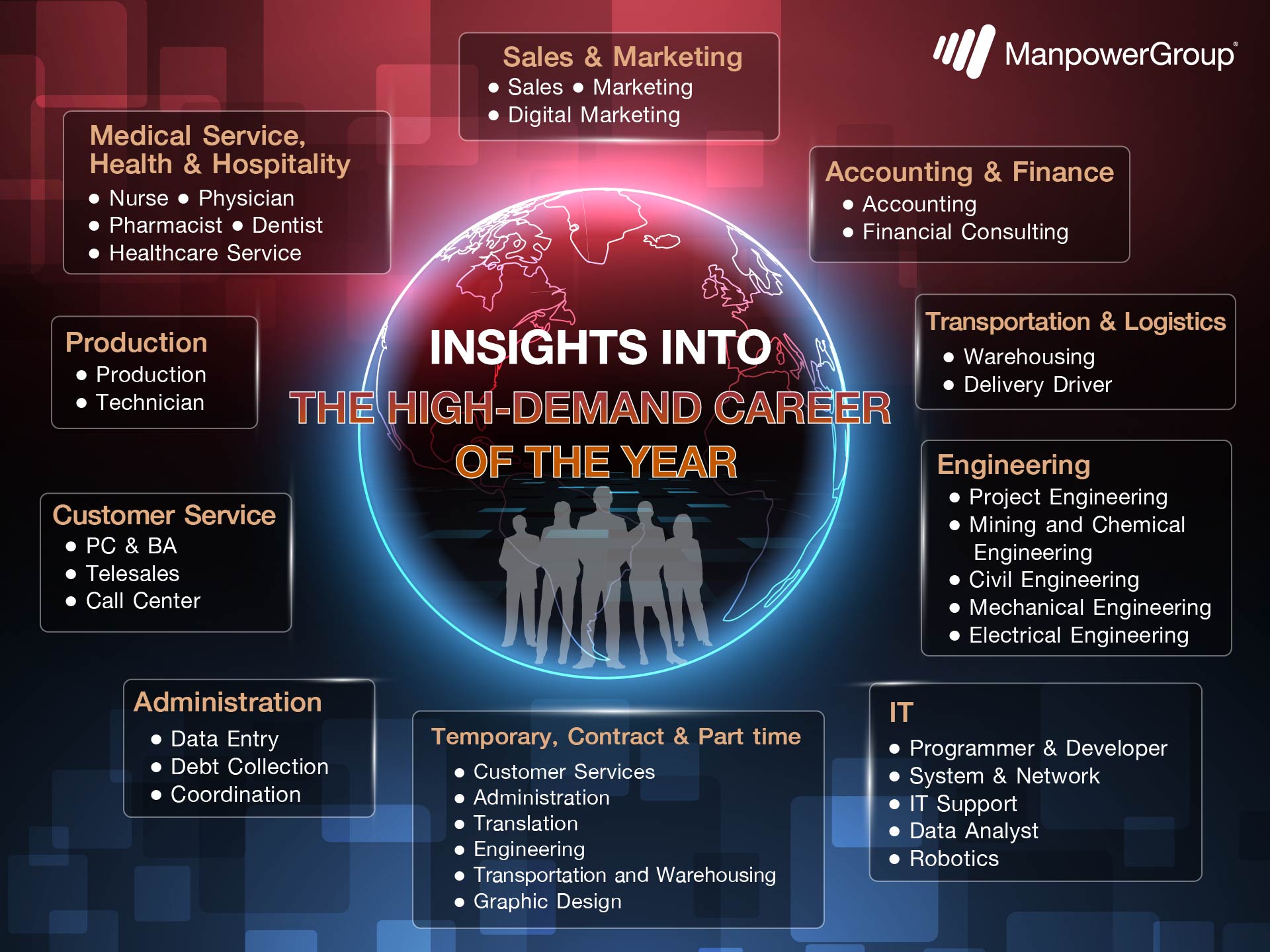 Additionally, The Office of Small and Medium Enterprise Promotion (OSMEP) indicates that there are five industries as most impacted by Covid-19 pandemic: (1) Tourism with 73% decrease in revenue; (2) Entertainment with 59% decrease in revenue; (3) Hospitality with 44% decrease in revenue; (4) Production with 42% decrease in revenue; and (5) Food with 41% decrease in revenue. Such information is consistent with the trend that workforce must be prepared to adjust to changes resulted by the pandemic. However, it is believed that the crisis will modify the working culture and businesses will continue to effectively adjust to the changing situation and behaviors.
"To successfully respond to changes in labour market this year and in future, the workforce must meet the labour market demands, enhance diverse skills, and improve themselves by continuous learning, which will result in improved quality of life and work-life balance. Workers can design their life security based on the changing situation and social context. If everyone is well prepared, ManpowerGroup truly believes that Thailand will become a learning society in which people will improve themselves to further contribute to economic and social security even during the time of hardship. If the public, business, and industrial sectors as well as the workforce learn to adapt to changes and become more resilient, we will eventually discover the "survival options for Thai workers in 2021" and keep up with the rapid transformation," said Miss Suthida Kanjanakantikul.
​
​****************************************************************************************************
เกี่ยวกับแมนพาวเวอร์กรุ๊ป ประเทศไทย
แมนพาวเวอร์กรุ๊ป ผู้นำระดับโลกในการจัดหาแรงงานเชิงนวัตกรรม นำเสนอบริการด้านต่างๆ แก่ผู้ประกอบการในส่วนของกระบวนการจ้างงานและการทำธุรกิจครบวงจร รวมทั้งการสรรหาว่าจ้างพนักงานประจำ พนักงานชั่วคราว และพนักงานแบบมีสัญญาจ้าง, การประเมินผลและการคัดเลือกพนักงาน, การฝึกอบรม, การช่วยหางานใหม่ (Outplacement), การรับเหมาจ้างงาน(Outsourcing) และการให้คำปรึกษา แมนพาวเวอร์ช่วยให้บริษัทสามารถตอบสนองความต้องการของผู้ประกอบการกว่า 400,000 รายต่อปี ซึ่งประกอบด้วยบริษัทขนาดย่อมและขนาดกลางในทุกประเภทธุรกิจ รวมทั้งบริษัทระหว่างประเทศรายใหญ่ที่สุด
ติดต่อฝ่ายการตลาด:
แมนพาวเวอร์กรุ๊ป ประเทศไทยข่าว | แมนพาวเวอร์กรุ๊ป ประเทศไทย
บริษัท แมนพาวเวอร์กรุ๊ป ผู้นำระดับโลกด้านการจัดหาบุคลากรและที่ปรึกษาด้านแรงงาน นำเสนอบริการสิ่งต่างๆ ซึ่งช่วยให้ลูกค้าได้รับความสำเร็จในโลกของการทำงานที่มีการเปลี่ยนแปลงอยู่เสมอ ปัจจุบันแมนพาวเวอร์กรุ๊ปมีจำนวน 80 ประเทศทั่วโลก​
โทร. 02-171-2345
อีเมล : recruitmentthailand@manpower.th.com
www.manpowerthailand.com
​
#ManpowerGroupThailand #แมนพาวเวอร์ #แมนพาวเวอร์กรุ๊ปประเทศไทย #อาชีพมาแรงแห่งปี #วิถีชีวิตNewNormal#แรงงาน #ทิศทางแรงงาน #ตลาดแรงงาน #แนวโน้มทิศทางตลาดแรงงาน