ข่าว | แมนพาวเวอร์กรุ๊ป ประเทศไทย
บริษัท แมนพาวเวอร์กรุ๊ป ผู้นำระดับโลกด้านการจัดหาบุคลากรและที่ปรึกษาด้านแรงงาน นำเสนอบริการสิ่งต่างๆ ซึ่งช่วยให้ลูกค้าได้รับความสำเร็จในโลกของการทำงานที่มีการเปลี่ยนแปลงอยู่เสมอ ปัจจุบันแมนพาวเวอร์กรุ๊ปมีจำนวน 80 ประเทศทั่วโลก
​
​Experis Thailand's recent IT survey reveals the sharp demand and growth of IT professions despite COVID-19 pandemic
Experis Thailand, a subsidiary of ManpowerGroup, recently conducted an IT survey which reflects the latest trends of IT market and related IT positions that are high in demand, despite the current pandemic situation. The survey also emphasizes the key factors including the rapid change in technology in-demand areas that accelerate businesses on Digital transformation. The remuneration packages for IT professions are also increasing and are reported ranging from 15,000 to 650,000 Baht per month, depending on qualification and experience. Relevant organizations are advised to collaborate in the development of labor to meet the needs of businesses and in hope of reducing Tech Talent shortage problem at the national level.
Mr. Simon Matthews,
Regional Manager – Thailand, Vietnam, and Middle East, ManpowerGroup, stated that the current labor situation has been severely affected by COVID-19 spread and the continuous global economic slowdown since last year. Industrial sector and businesses, as well as the labor, are required to adjust themselves to cope with the situation. However, the requirement for IT talent has been steadily growing and contributing to the continuous demand of these professions, despite the crisis due to the technological disruption in the industrial sector and businesses.
Experis Thailand, which specializes in IT recruitment, revealed the fast-growing trend in both demand and supply of IT professions, based on their latest – "IT labour Market Outlook 2021" survey. The surveyshowcases the high demand in certain IT professions and that it continues to grow annually. In the next 5 to 10 years, it is estimated that the rate of employment of IT personnel will be steadily rising, despite the shortage of IT talent pool available in the market.
These trends are influenced by 4 main factors, which are: First, the growth of emerging technologies including Artificial Intelligence (AI), Robotic Process Automation (RPA), Big Data, Cloud, Internet of Things (IoT), and Fintech, which plays a key role in driving the business, resulting in the establishment of IT infrastructure of many corporations. For this reason, a fair number of IT personnel are required to manage the processes. Secondly, the business sector is striving for digital transformation to build customer experience and support their changing behavior in the digital era. The industries embracing digital transformation are mainly the banking and financial sectors, by introducing their services and transactions on mobile applications, which is followed by insurance, communication, retail business, energy, human resources, education, and manufacturing industry. The third factor is a result of the rapid growth of e-commerce, logistics, and delivery business which plays a key role in the growth of many other business sectors. Finally, the spread of COVID-19 urges all corporations to adjust their policies and accept the New Normal, leading to a change of current work style to remote work and work from home alternatives for better productivity. For IT workforce, the remote work or work from home option is not something new, as many IT companies have allowed this culture previously, which boosts the flexibility of work for IT talents. When the pandemic occurred, many organizations were required to rely more on technological aids and strategies, which also contributed to an increasing demand of IT personnel.
However, there has been a periodical decline in demand of the IT workforce in the market. During the 2nd quarter of 2020, after the wide spread of COVID-19 in many countries that resulted in national lockdowns, corporations were forced to delay the recruiting of new employees, with budget constraints and uncertain future. During the 3rd and the 4th quarter of 2020, the demand of IT personnel seemed to increase again sharply and continuously.
This boosted the confidence in the high demand of IT talent, despite temporary halt, and that IT offers will only increase post the pandemic situation.
In terms of supply, the shortage of IT workforce can be expected both in Thailand and around the globe.
According to a market survey over 5-year period from 2018 to 2022, IT market growth was stated to be around 25.8%, while the overall digital economy in Thailand is expected to be growing by 61% of the GDP by 2022, leading to a steady increase in employment of the IT personnel. It is estimated that in 2023, there would be a shortage of more than 2 million IT positions globally.
For Thailand, the main factors influencing the shortage includes:
1. The younger generation's preference forfreelance jobs. Some of them usually skip IT based courses, as they find Math and Science based subjects are hard and competitive.
2. Many universities offer IT programs which focus on quantity rather than quality. According to Thailand Development Research Institute (TDRI), it is found that there are 570,000 graduates from computer-related programs per year in Thailand, but only 15% of them work in the IT field. In addition, Thailand seems to be able to produce only 5,000 IT graduates that qualifies to work in business sector.
3. Quality IT specialists are likely to work for the large and multinational corporations. Some may work overseas or establish their own IT consulting firms or change to other fields of similar work.
The above 3 factors reflect that there is a significant shortage of IT personnel here in Thailand. Relevant authorities are, therefore, required to collaborate with the business sector to discuss concrete solutions. Experis Thailand, as one of the leading IT workforce solution providers, actively partners with companies and candidates to address their IT personnel development planning and support the needs of the business sector.
Miss Suthida Kanjanakantikul,
Marketing Manager, ManpowerGroup Thailand, stated that the remuneration packages for the IT workforce tend to increase yearly because of the high competition and demand in the market. Companies need quality IT specialists to support their digital transformation needs and the shortage of IT personnel in the market remain significant. Each company tries to offer competitive packages by increasing compensation and other benefits to attract and retain their personnel. This can be seen from the salary structure of IT personnel ranging from 15,000 Baht per month for new graduates to 650,000 Baht per month for executives, depending on qualification and experience, as well as the digital and language skills.
The monthly salaries for full-time employees are in the range of:
·
Working period between 0 – 2 years, the average monthly salary would be in the range of 15,000 – 35,000 per month
·
Working period between 3 – 5 years, the average monthly salary would be in the range of 38,000 – 46,500 per month
·
Working period between 6 – 8 years, the average monthly salary would be in the range of 50,000 – 75,000 per month
·
Working period between 9 – 10 years, the average monthly salary would be in the range of 82,000 – 105,000 per month
·
Working period between 10 years or more, the average monthly salary would be in the range of 118,000 – 250,000 per month
·
Working period between 20 years or more, the average monthly salary would be in the range of 280,000 – 650,000 per month
In addition, Experis divides the IT labor recruitment into 2 service groups. The first group is
IT Permanent Service
catering from the staff level to the top management level, to support digital transformation of customers in service sector and industrial sector. The second group is
IT Staffing Service
that caters from the staff level to the top management level for customers who do not want to hire permanent employees. Experis also offers custom IT outsourcing service to support specific requirements of our customers.
​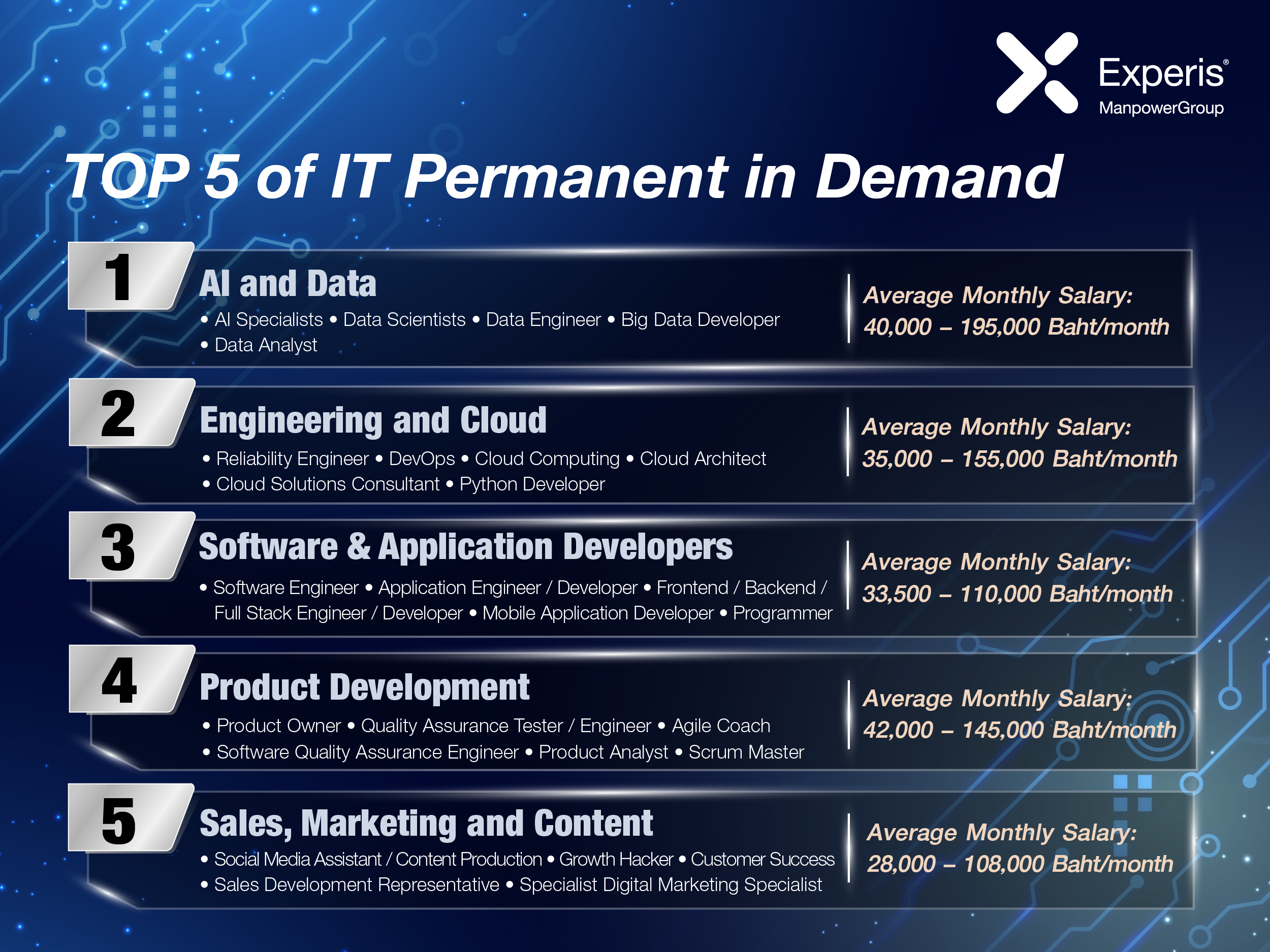 The current top 5
IT Permanent
in-demand roles are:
1. AI and Data, e.g., AI Specialists, Data Scientists, Data Engineer, Big Data Developer, Data Analyst with average monthly salariesbetween 40,000 – 195,000 Baht/month.
2. Engineering and Cloud, e.g.,Reliability Engineer, DevOps, Cloud Computing, Cloud Architect, Cloud Solutions Consultant, Python Developer with average monthly salariesbetween 35,000 – 155,000 Baht/month.
3. Software & Application Developers, e.g., Software Engineer, Application Engineer / Developer, Frontend / Backend / Full Stack Engineer / Developer, Mobile Application Developer, Programmer with average monthly salariesbetween 33,500 – 110,000 Baht/month.
4. Product Development, e.g.,Product Owner, Quality Assurance Tester / Engineer, Agile Coach, Software Quality Assurance Engineer, Product Analyst, Scrum Master with average monthly salariesbetween 42,000 – 145,000 Baht/month.
5. Sales, Marketing and Content, e.g.,Social Media Assistant / Content Production, Growth Hacker, Customer Success, Sales Development representative, Specialist Digital Marketing Specialist with average monthly salariesbetween 28,000 – 108,000 Baht/month.
The current top 5
IT Staffing
in-demand roles are:
1. Software / Application / Mobile Developers, e.g.,Software Engineer, Application Engineer / Developer, Frontend / Backend / Full Stack Engineer / Developer, Mobile Application Developer, Programmer with average monthly salaries between40,000 – 150,000 Baht/month.
2. SAP Consultant in severalmodules, e.g., SAP FI/CO, SD, MM with average monthly salaries between80,000 – 260,000 Baht/month.
3. Project Management / Project Admin / Project Manager / Project Coordinator with average monthly salaries between25,000 – 200,000 Baht/month.
4. Helpdesk / IT Support Engineer with average monthly salaries between15,000 – 100,000 Baht/month.
5. Software Tester / QA with average monthly salaries between35,000 – 90,000 Baht/month.
However, we need to note that the IT professions are always competitive due to the rapidly changing technology. IT work is going to shift from hardware to service provision. Therefore, IT personnel are required to reskill and upskill, to accommodate the emerging technologies, including AI, Big Data, Cloud, IoT, Cyber Security, Blockchain, and Fintech. Moreover, they should improve team collaboration, communication skills, business understanding, and English skills to ensure successful and effective growth. These specialist skills enhance competitiveness and boost candidates' chance of employment in leading companies.
"With technological advancement that plays a key role in business and daily life, IT workforce should focus on fully engaging as a business partner of the business sector. In this digital era, the contribution of the IT workforce to business is critical and plays a significant part in digital transformation to meet the needs of the market and customer behaviors, thereby creating a huge benefit to the business. For successful IT talents with satisfactory career advancement, we found that this group builds network and connection through participation in tech events and communities to exchange their professional experience and knowledge similar talents. Moreover, they must adjust the "attitude" to understand their role in the environment where IT combines with digital age. IT personnel need to learn and improve their skills regarding the emerging technologies in terms of reskill and upskill.
The components that enhance their professional success, leading to
being the tech talents for young generation IT specialists consist of 5 Cs
: 1.
Customers Focus
: Being able to understand the need and requirement of the business and being ready to respond to and offer accurate technological solutions; 2.
Communication
: IT personnel should work as the partner of the business team, the customers, and other business partners. Therefore, their communication skills are important to ensure mutual understanding and success of the business goals; 3.
Collaboration
: Teamwork is crucial for the current IT personnel starting from product development to IT service provision. They are expected to brainstorm, collaborate, solve problems, and work as a team to ensure successful delivery of the products and services; 4.
Creativity
: Creativity is another required skill of IT personnel that needs continuous improvement to stay competitive with product and service innovations. and 5.
Commitment
: The current platform of technology is rapidly changing. Companies are moving forward with more digital transformations to develop their business process and effectiveness of their products/services. IT personnel are required to always practice, improve, and acquire new knowledge to be able to offer new and innovative solutions. Determination and responsibility for their roles will be another key factor enhancing their chance of career success", Miss Suthida Kanjanakantikul mentioned.
​
​
****************************************************************************************************
เกี่ยวกับแมนพาวเวอร์กรุ๊ป ประเทศไทย
แมนพาวเวอร์กรุ๊ป ผู้นำระดับโลกในการจัดหาแรงงานเชิงนวัตกรรม นำเสนอบริการด้านต่างๆ แก่ผู้ประกอบการในส่วนของกระบวนการจ้างงานและการทำธุรกิจครบวงจร รวมทั้งการสรรหาว่าจ้างพนักงานประจำ พนักงานชั่วคราว และพนักงานแบบมีสัญญาจ้าง, การประเมินผลและการคัดเลือกพนักงาน, การฝึกอบรม, การช่วยหางานใหม่ (Outplacement), การรับเหมาจ้างงาน(Outsourcing) และการให้คำปรึกษา แมนพาวเวอร์ช่วยให้บริษัทสามารถตอบสนองความต้องการของผู้ประกอบการกว่า 400,000 รายต่อปี ซึ่งประกอบด้วยบริษัทขนาดย่อมและขนาดกลางในทุกประเภทธุรกิจ รวมทั้งบริษัทระหว่างประเทศรายใหญ่ที่สุด
ติดต่อฝ่ายการตลาด:
แมนพาวเวอร์กรุ๊ป ประเทศไทยข่าว | แมนพาวเวอร์กรุ๊ป ประเทศไทย
บริษัท แมนพาวเวอร์กรุ๊ป ผู้นำระดับโลกด้านการจัดหาบุคลากรและที่ปรึกษาด้านแรงงาน นำเสนอบริการสิ่งต่างๆ ซึ่งช่วยให้ลูกค้าได้รับความสำเร็จในโลกของการทำงานที่มีการเปลี่ยนแปลงอยู่เสมอ ปัจจุบันแมนพาวเวอร์กรุ๊ปมีจำนวน 80 ประเทศทั่วโลก​
โทร. 02-171-2345
อีเมล : recruitmentthailand@manpower.th.com
www.manpowerthailand.com