​Thailand is a great place to work and live. The country offers a blend of cultures, warm locals, delicious food, and affordable living. If you are a foreigner and wish to work here, note that Thailand's work permit application process can sometimes be complex and confusing.
Before you start working here, it will be beneficial to know about the fundamentals of work visas and work permits in Thailand. Our guide will help you go through the application process.
Step 1: Document Preparation
To legally work in Thailand, you must apply for a work permit. To do that, you must first get the appropriate work visa. Once you have the proper visa, you can apply for a work permit. That said, there are certain documents that you and your employer need to prepare for the application process.
Documents Required from Foreign Individuals:
Original passport and copies of Non-Immigrant visa page, latest entry page, and biodata page

Copies of work experience certificates from previous employers

Copies of educational certificates or degrees

A recently issued medical certificate

Three photos 3 ✕ 4 cm. in size, taken no more than six months ago

Other job-relevant certificates and licenses
Documents From Employer (Company):
A work permit application form (WP.3)

Company registration certificate and list of shareholders

VAT certificate and filings

Social Security payment forms

Corporate income tax filings

Employment contract between the company and the foreign individual
Remember to sign all copies of your documents, and certain documents might need to be translated into Thai, especially if they are written in a language other than English. So, check that all your documents are readied to avoid unnecessary delays and ensure a smooth interaction with the Ministry of Labour.
Step 2: Non-immigrant Visa Application
There are different types of work visas available for foreign nationals to apply for a work permit once they enter the country, such as the Non-Immigrant B visa (Learn more about the types of work visas here). On the other hand, if you enter Thailand with a tourist or other type of visa, you can convert your visa to non-immigrant with 90 days validity at Thai embassies or consulates. The required documents may include:
A passport or travel document with at least 6 months validity remaining

A visa application form

An approval letter issued by the Thai authorities, such as the Department of Employment, the Board of Investment of Thailand (BOI), or the Industrial Estate Authority of Thailand (IEAT)

A copy of the employment contract between the applicant and the employing company

Various corporate documents of the employer, such as the invitation letter, certificate of incorporation, shareholders list, company affidavit, etc.
Please be aware that the list of documents provided above is not exhaustive, and the necessary documents may differ between embassies.
Step 3: Work Permit Application
Work permits in Thailand are granted by the Department of Labour. You and your employer need to submit all the documents to the office within ninety days before the visa expires. On top of that, both you and the hiring company must meet the qualifications specified by the Labour Department to be considered for a work permit.
If the employer meets specific requirements, such as having total assets or registered, paid-up capital exceeding thirty million Baht, and if a management position is being applied for, or if the application is submitted under a BOI-promoted company, it can be processed at the One-Stop Service Center.
​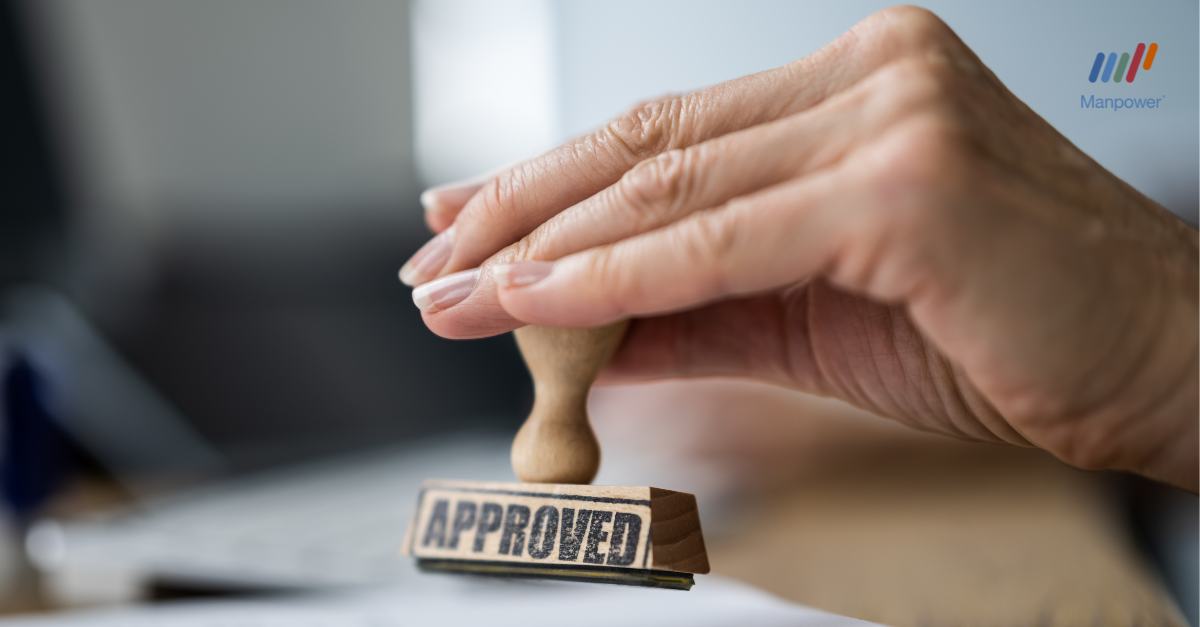 Step 4: Work Permit Approval
After submitting all the application documents, you will get a notification slip indicating the date on which the permit can be collected. The official work permit booklet will be issued by the Department of Labour to foreign employees. The process usually takes around 7-10 business days. In the case of an application via the One-Stop Service Center, the document can be processed and issued on the same day.
When you get your work permit in Thailand, you must be present with the original passport in hand to get the work permit stamp from the Department of Labour.
After getting your work permit, be sure to have your visa extended from ninety days to at least one year.
The work permit application process may sound simple, but in reality, it can be tiring, and many issues can arise. You can make the experience better by getting assistance from a work permit service provider like ManpowerGroup Thailand.
ManpowerGroup Thailand's Work Permit Service
ManpowerGroup Thailand offers a full range of work permit services in Thailand, including consulting, compiling, organising, and expediting work permit and Non-B Visa applications. We can also assist in obtaining Non-O visas for spouses and children of employees, as well as handling reports to immigration, re-entry permits for overseas travel, and application renewal.
At first, it may seem difficult to obtain a work permit in Thailand. Albeit, with ManpowerGroup's services, issues can be anticipated and solved to make the process as easy as possible.
See more details of our work permit service, click here.
About ManpowerGroup Thailand
ManpowerGroup is the world's leading workforce expert. We offer comprehensive services ranging from recruitment services, HR consultant services, payroll outsourcing, outplacement services, and more. With more than 20 years of experience providing services in Thailand, you can rest assured that our experts will offer solutions that help your organization transform in a fast-changing world of work.
Contact us
LINE OA: @manpowergroup_th
Call Center: 02-171-2345
E-mail: recruitmentthailand@manpower.co.th
Website: www.manpowerthailand.com